Finding the most delicious wedding cake in Philadelphia might seem daunting!  Thanks to Lauren from Bredenbeck's Bakery she has answered so many helpful questions to guide couples planning their wedding in finding the best Philadelphia wedding cake.  Bredenbeck's Bakery made Melissa & Justin's wedding cake and Green Bay Packers groom's cake.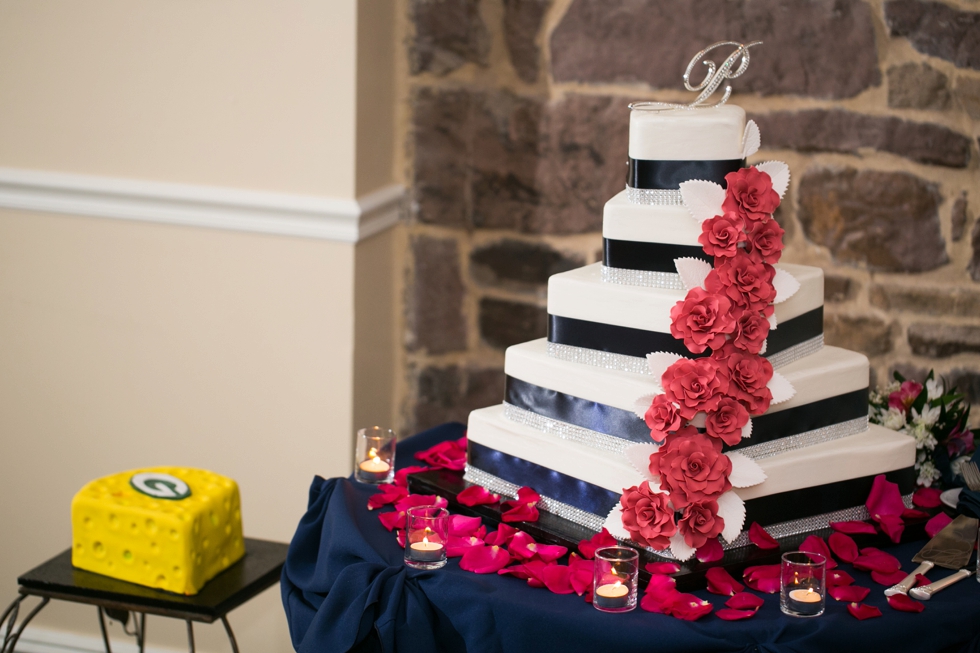 How long has your bakery been open? Bredenbeck's Bakery originated in 1889, and has been located in Chestnut Hill since 1983.
Can I sample your cakes before placing a deposit? We offer complimentary tastings, where you are welcome to try all of our cake flavors and fillings, and work with a designer to create your cake. You are welcome to sleep on it, or try other cakes before making your decision.
Do you freeze your cakes for long periods of time prior to delivery? We do not freeze our cakes and use only the freshest ingredients. Everything is baked on site and like you would bake in your own kitchen, just on a little larger scale.
How will my cake be delivered? Your cake is not boxed, as we find that tends to cause the cake to get more damaged during transportation.  We will provide you with a box and freezing instructions for your top tier.  Also, we have a delivery team that ensures everything is perfect, although sometimes mistakes happen. We will bring the cake back to the bakery or send a sugar artist on site to make any corrections. You want your wedding day to be perfect, and so do we.
Are you licensed, health-department certified, and insured? We are licensed, certified and have a large umbrella. Also all of our head decorators, pastry chefs and sales team are ServSave certified.
How far in advance are wedding cakes prepared? We bake your cake 32 hours before your wedding day, to first let the cake cool, and then let the flavors set into the pound cake.  The cake is then decorated the day of your wedding, and is delivered 4-6 hours before your wedding starts.
Are there any additional fees to be aware of? The complexity of design work and fondant can increase the cost, but we are happy to work within anyone's budget. Also, we are known for our buttercream work.
What do you recommend to get a set idea of what type of cake or cupcakes wedding couples want? We welcome couples to bring any pictures, color swatches or pieces of their wedding to the tasting, however that is not needed.  We have plenty to look through and you are able to sketch out a cake with one of our designers.  We only ask you come hungry!
What is your favorite type of cake/cupcake? We love when the cake represents the couple, either their favorite flavor combination, a theme from the big day, or a small Spiderman peeking out of the back.
Is there a type of cake or style that you wish was more popular?!  People are tending to cut back on the cake serving size because they are afraid that their guests will not eat the cake by the end of the night.  We suggest that if you are serving cake, you have enough for everyone and serve it right after dinner.  Not too much else goes better together than cake and coffee!
Where is your favorite venue or place in Philadelphia? We love working all over Philadelphia. Each venue has its own amazing sales team, chefs and feel. It gives today's couples such a variety and place to make their special day their own!
Do you offer duplicate one year anniversary cakes? We would be happy to duplicate a couple's wedding cake, and recreate that special memory. We do offer a complimentary 4″ anniversary tiers to all of our couples, as a thank you for letting us be a part of their special day!